Kratkoplavuti
pikčasti moli
,
Poecilia sphenops (Valenciennes, 1846)
> Mexican molly, Liberty molly; Česky: Živorodka ostrotlamá
>Poeciliidae >Poeciliinae> subgenus
Mollienesia
Spada v
P. sphenops »complex«
:
P. sphenops, P. maylandi, P. gilli, P. butleri, P. salvatoris, P. orri, P. vandepolli. P: chica. P gracilis, P. mexicana, P. sulphuraria, P. latipunctata. P. catemaconis
.
Imajo trojno ali enojnokoničaste zobe ipd.; zanimivo je, da obstajajo v naravi tudi naravni hibridi med temi vrstami.
> Later on, new scientific evidences ( now also based in DNA as well in behaviour and not only in morphologic characters ), have decide the new tendencies about the complex classification.
Based on the more recent paper works, it is very accepted today an entirely new revision on the Poecilia sphenops complex based on genetic models that allow a better understanding on these species evolution and closeness.
Some much differentiated populations like the Rio Balsas Mexican sphenops population, are not considered as an autonomous species, but instead considered a very divergent one.
There are several versions about this species complex composition but they are not very far from this :
Poecilia butleri
Poecilia chica
Poecilia gracilis
Poecilia gilli
Poecilia mexicana
Poecilia orri
Poecilia sphenops
Poecilia vandepolii
Some sources also classify
Poecilia mexicana
as an independent complex too.
This way we can look upon two different " branches " according to the next geographical division :
1)
Pacífic side (
Poecilia sphenops complex
)
Poecilia butleri
Poecilia chica
Poecilia mayalandi
Poecilia sphenops
2)
Atlantic side (
Poecilia mexicana complex
)
Poecilia catemaconis
Poecilia formosa
Poecilia gilli
Poecilia latipuncatata
Poecilia mexicana limantouri
Poecilia orri
Poecilia suphuraria
Poecilia teresae
...
> Based on morphological and allozymic evidence, the
Poecilia sphenops complex
is an array of at least ten biological species ranging from Mexico to Venezuela (systematics are unclear south of Mexico) and not a single polytypic species as some authors have previously suggested. The allozyme data also suggest that the populations of mollies with tricuspid teeth on the Atlantic and Pacific coasts of Mexico now referred to as
P. sphenops
(
sensu strito
) may represent at least two biological species. As some of the members of the complex are used as general research animals, experimental biologists should ascertain the specific identity of their stocks.
> Reference:

Brett, Betty Lou Hilton, Turner, Bruce J. (1983/05/26)
."Genetic divergence in the
Poecilia sphenops complex
in Middle America."
Biochemical Systematics and Ecology
11(2): 127-137.
http://www.sciencedirect.com/science/ar ... 788390011X
PDF
http://www.fishbase.us/images/thumbnail ... sph_m0.jpg
The morphologically most similar mollies (
P. mexicana, P. sphenops
and
P. butleri
) are genetically quite distinct...
Invazivna vrsta v ZDA: Remarks: Some, conceivably all, of the records of this species in the United States may turn out to represent one of the other members of the
P. sphenops species complex
and not
P. sphenops.
For instance, the Hawaiian records of
P. sphenops
(Maciolek 1984
) and that of
P. mexicana
(Devick 1991
) are now considered the same fish (
Poecilia
sp.;
Mundy 2005)
. Similarly, Schoenherr (1979) reported taking
P. sphenops
from a canal northwest of the Salton Sea in California; however, according to Dill and Cordone (1997), later authors questioned the identification and therefore did not include
P. sphenops
in their listings of California fishes (e.g.,
Hubbs et al. 1979; Shapovalov et al. 1981)
. At least five members of the
P. sphenops species complex
have been reported from the United States
(Courtenay and Hensley 1979).
> Značilnost vrste
P. sphenops
: trojno-koničasti zobje (tricuspid teeth)...
This species is one of the ancestors of the black mollies, a number of melanistic breeds which are black all over. The wild form is in fact quite rarely kept, as it has a rather plain silvery coloration suffused with brown and green hues.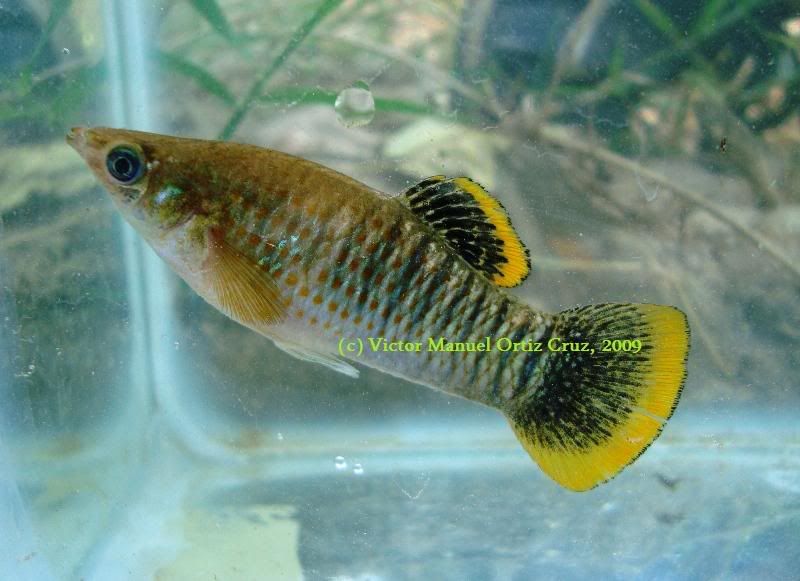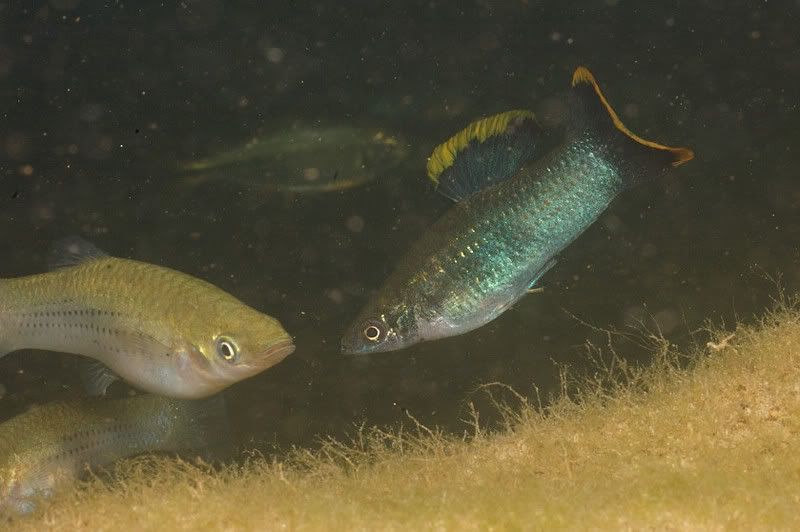 > Species of the
Poecilia sphenops Complex
(Pisces: Poeciliidae) in México.
R. Jack Schultz and Robert Rush Miller
.
Copeia
.
Vol. 1971, No. 2 (Jun. 1, 1971), pp. 282-290